May 25, 2012 in Forum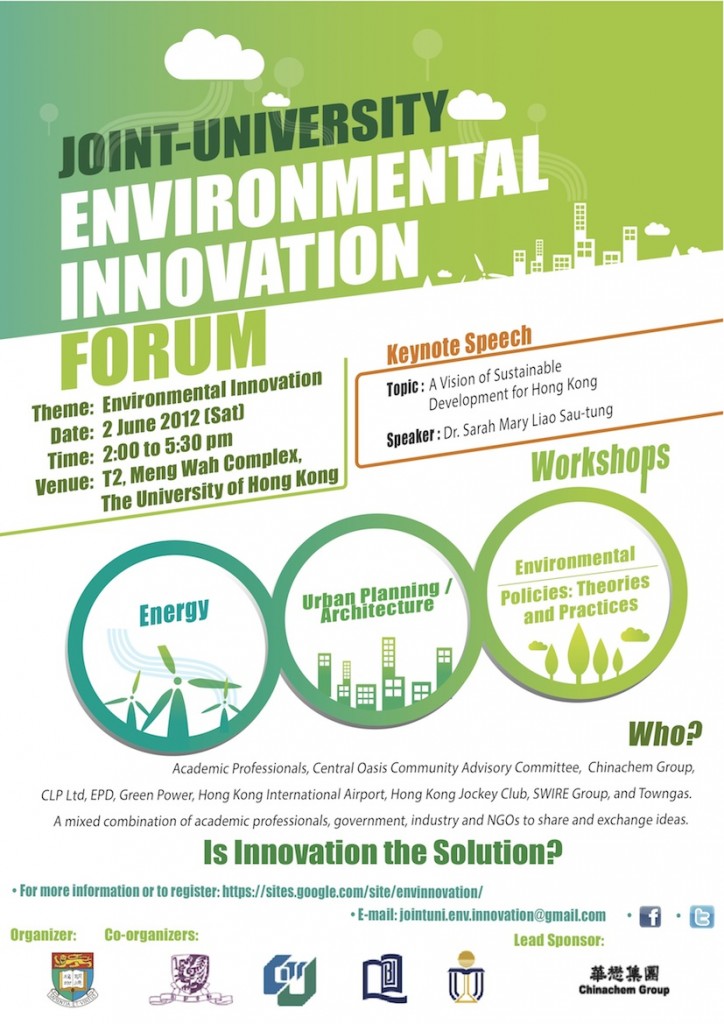 Dear Student / Alumni,
A group of environmental students from various universities have organized an event on Environmental Innovation to better understand this exciting sector. Experts in the field, including the former Secretary for the Environment, Transport and Works, Dr. Sarah Liao, will conduct workshops, sharing their knowledge and discussing issues with participants. There will be workshops on Energy, Architecture and Urban Design, and Environmental Policy. We cordially invite interested persons from your institution to attend, and would be grateful if you could pass on this invitation and the attached event poster via e-mail.
The Environmental Manager of Town Gas, Mr. Chris Man, and the Chairman of Green Power, Dr. Eric Tsang, will give their insights on developments in the energy sector by conducting a workshop. There will be networking sessions in between the workshops and speeches where the students will have an opportunity to meet representatives from prospective employers involved in the industry and related organizations. Attending representatives include those from Swire, Hong Kong Jockey Club, CLP, Towngas, Chinachem and Airport Authority Hong Kong.
Participants are invited to register for the event at https://sites.google.com/site/envinnovation/registration
Keynote speaker: Dr. Sarah Liao Sau-tung, former Secretary for the Environment, Transport and Works (2002-2007)
General theme: Environmental Innovation
Date: 2 June 2012 (Sat)
Time: 2:00 to 5:30 pm
Venue: T2, Meng Wah Complex, HKU
Workshops: (a) Energy, (b) Architectural Designs and (c) Environmental Policy
Participants: University students from environmental related courses, academics, representatives from the industry, government and NGO representatives, and general public
Please do come join all the innovation happening on 2nd June!
Best,
Organizing Committee of Joint-University Environmental Innovation Forum
E-mail: jointuni.envi.innovation@gmail.com