EMAHK cordially invite all our members to come to our Annual General Meeting & Dinner on 2017-3-11 (Sat). We are honoured to have Mr. Leung Wing Mo to give us a talk about Climate Change before the dinner.
The program of the AGM+Talk+Dinner will be as follows:
Date: March 11, 2016 (Saturday)
Time: AGM  6:00-6:45pm (Registration starts at 5:45pm)/ Talk+Dinner 7:00-9:30pm
Venue: Rome Cafe, Graduation House, Main Campus, The University of Hong Kong (Location)
Registration: click here
Presentation by Mr. W.M. Leung: A warming world, a crisis or opportunity – EMAHK – abridged version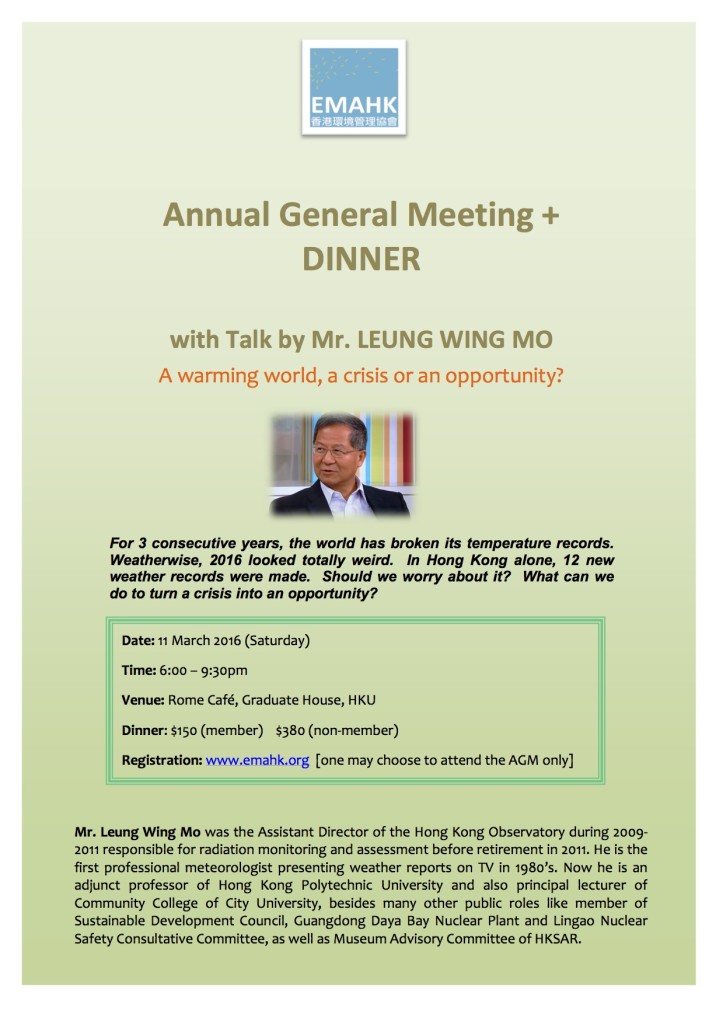 AGM Agenda:
1. Receive and adopt the agenda
2. Receive and adopt the minutes of the previous AGM*
3. Receive the president's report
4. Receive and endorse the Auditor's Report* for the previous financial year
5. Re-appoint Lau & Au Yeung C.P.A. Limited as the association's auditor until the conclusion of the next Annual General Meeting
6. Election of New Cabinet
7. AOB
* The minutes of the previous AGM and the Auditor's Report can be viewed here by clicking the links.
** Note that only Full and Fellow members have voting rights at the AGM, but the meeting is open for all to attend **
*** If member cannot attend the meeting, please send us a proxy (Proxy Form 2017)