December 19, 2010 in Forum
"A Public Consultation Forum on Hong Kong's Climate Change Strategy and Action Agenda" was jointly organised by EMAHK and HKU on Nov 20, 2010.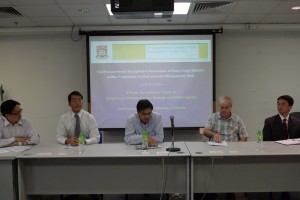 For the Forum Discussion, we had invited Mr Freeman Cheung (Regional Managing Director, Environment, HK, AECOM Asia Co Ltd.), Mr Robert Gibson (Former Director of Sustainable Development, John Swire & Sons (H.K.) Ltd., Prof. XU Yuan (Assistant Professor in Energy Resources and Environmental Policy, Department of Geographical and Resource Management, CUHK), Mr Alex Yeung (a Postgraduate Student Representative of HKU) and other prominent guests to serve as our speakers and panelists. EMAHK collected the views from the audiences and speakers and generated a summary and report to HKSAR Government for consideration.
EMAHK submited our feedback on the Consultation Paper (the paper) "Hong Kong's Climate Change Strategy and Action Plan" on Dec 10, 2010.
1. This submission constitutes the opinion of the Association and the feedback from the speakers and the audience at the Public Forum jointly organized by the EMAHK and the MSc. Environmental Management Programme of the University of Hong Kong on 20th November 2010. There were over 40 members of the Association attending this Forum, including academics, environmental consultants, environmental managers, environmental engineers, governmental officers, businessmen and current postgraduate students from the University of Hong Kong, Hong Kong Polytechnic University and Hong Kong Baptist University
2. The feedback in this paper was grouped into four sections:
a. An overview (i.e., executive summary);
b. Comments on the questions raised in the paper;
c. Comments outside of the scope of the paper
d. Suggestions from the EMAHK